Fresh Flour Whole Wheat Banana Pancakes – No Sugar
Fresh Flour Whole Wheat Banana Pancakes – No Sugar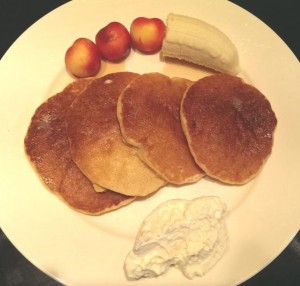 These fresh flour whole wheat banana pancakes have quickly become a favorite in our house. They rival and beat any other pancake recipe we ever thought was the best. It can be gluten-free. It can be dairy-free. Suggestions are below.
Ingredients (Makes ~14 pancakes – we double this recipe for our family of seven):
1 cup (125g) freshly milled whole wheat flour (Soft or Hard – We experimented with both and the difference is hardly noticeable). You could probably substitute a gluten free flour too and get excellent results. We will eventually, but if you do before us, comment here and let us know how they turned out!
1 teaspoon Aluminum-free baking powder
2 real eggs, beaten
2/3 cup rice milk – or another milk. If you use dairy, we recommend grass-fed cows.
2 Tablespoons coconut oil – or melted grass-fed butter.
1/2 Tablespoon Pure vanilla extract
1 Tablespoon fresh squeezed lemon juice (juice from about half of a small lemon)
1/4 teaspoon Redmond's Real Salt
3 ripe bananas, mashed
Directions:
Lightly butter a cool griddle or frying pan.
Combine flour and baking powder and whisk to mix.
In a separate bowl, beat eggs, milk, oil, vanilla, lemon juice, and salt until eggs are thoroughly beaten.
Mash bananas using two forks in a bowl and mix in the mashed bananas to the liquid mixture. This mixture should stay chunky.
Add the liquid mixture to the dry mixture and mix until thoroughly incorporated. The mixture will still have small chunks of bananas. You want these chunks.
Heat the buttered griddle or frying pan to 300-325F. Use a 1/4 measuring cup to pour the batter onto the pan.
Cook until the golden brown on both sides.
Serve warm and enjoy!
Serving suggestions:
Serve plain. This is how we feed them to our 14-month old son. They are delicious enough to eat this way too.
Serve with fresh fruit such as cherries, bananas, strawberries, blueberries, pineapple, etc.
Serve with Real Grass-fed butter and Real Maple Syrup. A little bit goes a long way. Our favorite is Grade B.
For an extra treat every once in a while, serve with Homemade Real Whip cream.
*Keywords: nutrimill, bosch, gluten free pancakes, gluten free pancakes, vegetarian pancakes, best panckae recipe, homemade pancake recipe, whole wheat pancake recipe, banana pancake recipe, no sugar pancake recipe