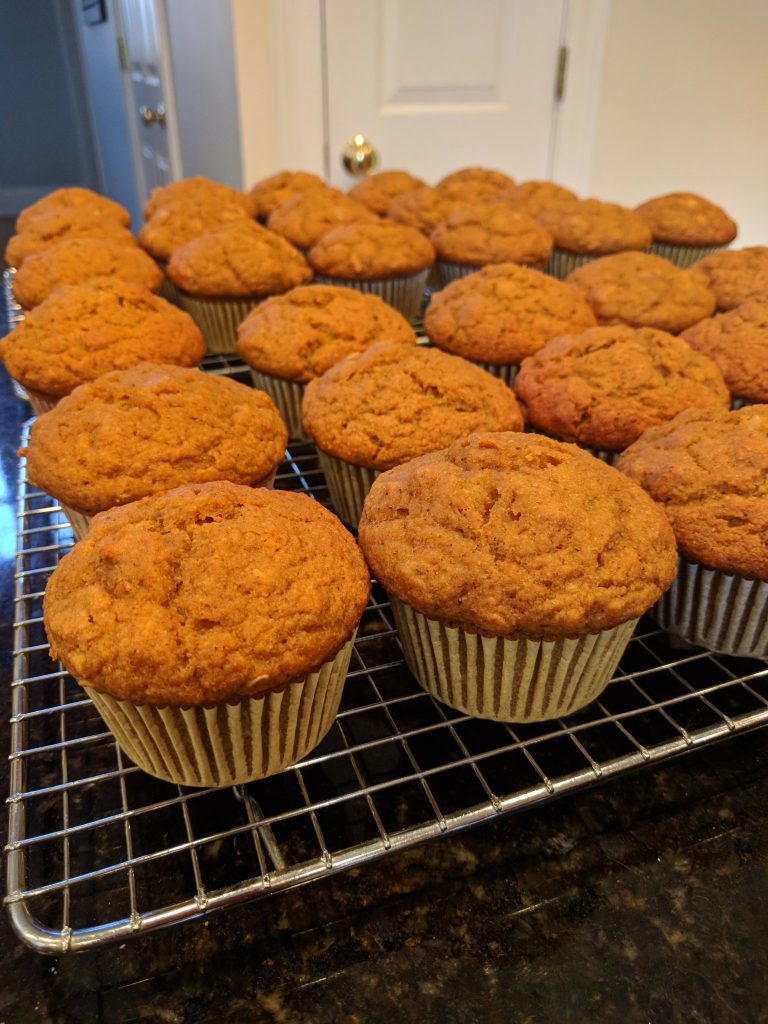 When fall arrives anything pumpkin sounds delicious. And these muffins are no exception. Full of all the fall flavors, it will not disappoint. After Halloween I take my pumpkins and bake them and throw them in the blender. I put the puree into quart-size freezer bags to have handy when the itch for pumpkin hits. I think my puree is not as thick as the stuff in the can, so my batter ends up a little more runny. If you try it with canned pumpkin puree let me know how it turns out in the comments section. This recipe yields about 36 regular sized muffins.
Ingredients:
4 cups pumpkin puree
1 1/2 cups olive oil
1 1/4 cup maple syrup
1 1/4 cup honey
8 eggs
4 tsp vanilla
4 tsp baking soda
2 tsp salt
2 tsp cinnamon
2 tsp ground ginger
1 tsp ground nutmeg
1 tsp ground cloves
6 cups whole wheat flour
1 cup bran (or add an extra cup of whole wheat flour)
1 1/3 cup rolled oats
Instructions:
Preheat oven to 325 degrees F or 300 degrees convection. Place cupcake liners in muffin tins or grease with butter. In your Bosch mixer or large mixing bowl add pumpkin puree, maple syrup, honey, eggs, and vanilla. Beat until fully incorporated. Add baking soda, salt, cinnamon, ginger, nutmeg, cloves, flour, bran and oats and mix on low until fully mixed together. If you would like to add any mix-ins like pecans, chocolate, or dried fruit, add now. Fill each cup to the top, and maybe even a little more. If you're feeling fancy you can sprinkle the tops with some extra rolled oats and cinnamon. Bake for 20-30 minutes or until toothpick inserted in center comes out clean. Take muffins out and let cool on a cooling rack for 10+ min. For those muffins that don't get devoured right away, you can place them in a bag in the freezer. Pull a few out at night to have fresh muffins in the morning for breakfast. Yum!